Coming in June from the Black Library, a Warhammer Horus Heresy Anthology about the Warmaster's own homeworld Cthonia. CTHONIA'S RECKONING features my short story "To The Last", promising space battle unlike any other. Voidwar!


NO GAME FOR KNIGHTS — This anthology features my story "Storm Surge", another story in the GRAVEYARD SHIFT universe featuring Alex (Menkaure) and a powerful new ally. Alex finds himself on a protection detail for a young girl with abilities so powerful some of the most dangerous vampires are out to finish her. But with an undead pharaoh like Alex on the scene, who is setting a trap for whom?
This is a collection of noir fantasy and sci-fi stories from some truly amazing authors, edited by me and Kacey Ezell. It's the follow-up to Noir Fatale.
The actual book release is in a couple of months. If you aren't familiar with what an eARC is, that's an Electronic Advanced Reader Copy. This is what most publishers send out to reviewers. Baen makes it so that you can get an early production version of the ebook if you don't want to wait. It's a win-win, and you get to see our fun typos.
You can get the eARC here: https://www.baen.com/no-game-for-knights-earc.html
Pre-Order here: https://www.amazon.com/gp/product/1982192089
Out now from Black Library! AMOR FATI. A Horus Heresy Short Story! Available through Black Library and Amazon!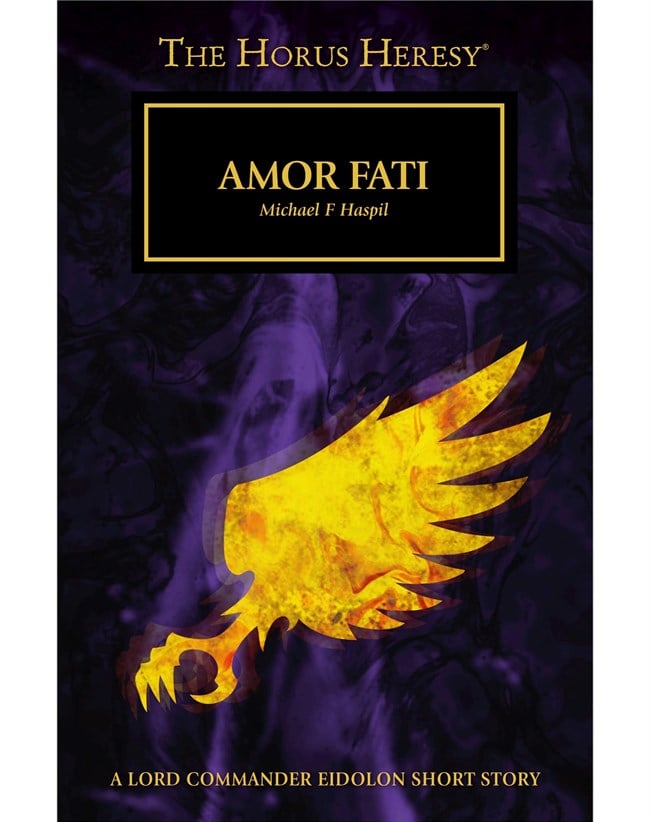 Out now from Baen! Sci-Fi Western Shenanigans Galore. Feast your eyes upon this amazing Anthology now available for pre-order!
The final frontier ain't so final in these 12 tales of space exploration and adventure: each a timeless yarn told around the warm glow of a nuclear reactor just before it goes supernova. There's a story for everyone who's ever dreamed of traveling the stars.
From the lone stranger who flies into town to help a widow and her daughter to the alien rancher trying to pose as human, they are familiar, yet with completely new twists. Take the pair of mercenaries who sign on to stop a mining camp insurrection only to discover they might be on the wrong side of evolution, or the prospector who finds the strike of a lifetime but ends up stranded on a barren moon without hope of rescue. And if that's not enough to catch your fancy, then how about a cloned Doc Holliday making his way in a future where both sickness and gambling are ancient history?
Assembled inside are the biggest names in science fiction, taking you to the farthest reaches of the galaxy like they've never done before. Elizabeth Moon, Alan Dean Foster, Jane Lindskold, and Wil McCarthy are some of the exciting yarn-spinners inside. So get ready to hit the hyper-thrusters as you set course for adventure, mystery, romance, and two-lasergun slinging action!
Featuring Elizabeth Moon, Alan Dean Foster, Jane Lindskold, Wil McCarthy, Gini Koch, Martin Shoemaker, Cat Rambo with J.R. Martin, Alastair Mayer, Alex Shvartsman, Patrick Swenson, and Michael L. Haspil. Edited by David Boop (Straight Outta Tombstone).
Buy Links:
Available in Hardcover, Ebook, Audiobook, and in Paperback.
The first in an epic new series.
GRAVEYARD SHIFT
Alex Menkaure, former pharaoh and mummy, and his vampire partner, Marcus, who was born in ancient Rome, used to hunt evil vampires for UMBRA, a super-secret unit of the NSA.
That was before the discovery of a blood substitute and a Supreme Court ruling allowed thousands of vampires to integrate into society.
Now, Alex and Marcus are vice cops in a special police unit fighting to keep the streets safe from criminal vampires, shape-shifters, blood-dealers, and anti-vampire vigilantes.
When someone starts poisoning the artificial blood, race relations between vampires and humans deteriorate to the brink of anarchy. While the city threatens to tear itself apart, Alex and Marcus must form an unnatural alliance with a vigilante gang and a shape-shifter in a desperate battle against an ancient vampire conspiracy.
If they succeed, they'll be pariahs, hunted by everyone. If they fail, the result will be a race-war bloodier than any the world has ever seen.
Praise for GRAVEYARD SHIFT:
"Fans of urban fantasy, noir, and tightly choreographed action scenes will enjoy the blood and bullets in this adrenaline-heavy ride through crime scenes and secret societies." – Kirkus Reviews
"Inventive and cleverly crafted with a unique premise, Haspil's urban fantasy is absolutely gripping." – RT Book Reviews (4 Stars)
"Part crime novel and part fantasy, Graveyard Shift is a bloody good read."
– Booklist
"Those who enjoy police action mixed with urban fantasy may want to try this." – Library Journal (Starred Review)
GRAVEYARD SHIFT is published by TOR and is available at bookstores everywhere. Also be sure to check out the Audible Exclusive Audiobook read by Michael Kramer!
Buy links